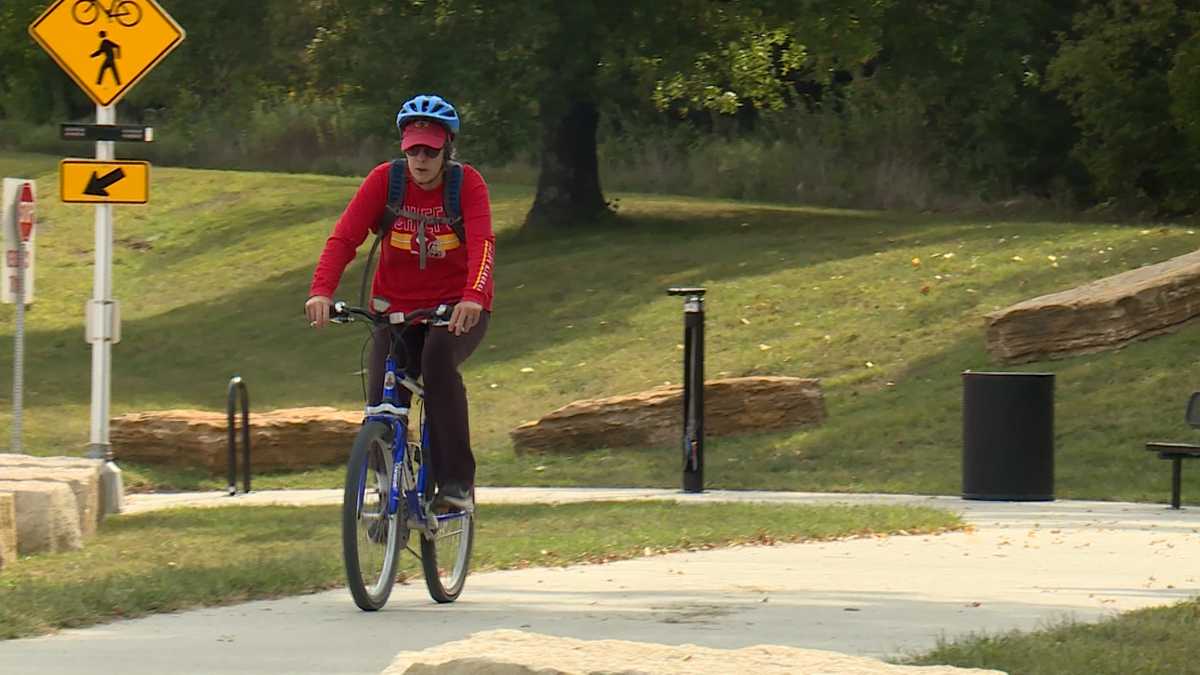 BikeWalkKC seeks to increase the accessibility of the sports complex
I ALWAYS TELL PEOPLE KANSAS CITY IS AN AMAZING CITY TO RIDE IN, BUT KNOWING YOU'RE GOING TO GO AND REALLY ROOT FOR THE CHIEF OR FOR THE ROYALS IS ALWAYS A GOOD EXPERIENCE. AND THEN ALSO, YOU KNOW, YOU DON'T NEED TO BE IN TRAFFIC. THIS IS A VERY NICE ADVANTAGE. FOUR TIMES A YEAR, KILEY CENTER WILL PUT ON HIS HELMET AND GO TO THE SPORTS COMPLEX TO WAIT FOR A MATCH. NOW BIKE, WALK, AC WANTS TO MAKE IT EASIER FOR THOSE LIKE HIM TO GET TO STADIUMS CONSTANTLY. LAUNCHING AN ONLINE SURVEY EARLIER THIS FALL. SO WE USE THE SURVEY JUST TO TRY TO GET A CLEARER PICTURE. DOES IT NEED A BETTER INFRASTRUCTURE? DO YOU NEED BETTER PARKING? IS IT A NEED FOR BETTER SAFETY FOR PEOPLE'S BIKES? WE WANT TO BE ABLE TO UNDERSTAND, WHAT WE CAN SPECIFICALLY STAND FOR IN CONJUNCTION WITH THE TEAMS, WITH JACKSON COUNTY, SO THAT WE CAN ALL COME TO A SOLUTION THAT MAKES ACCESS TO THE STADIUM EASIER, EASIER FOR EVERYONE WORLD, WHETHER THEY DRIVE OR RIDE AS A FAN WHO CYCLED TO SEE PITCHERS AND PIG SKIN, SUTTER SAYS HE HAS A SOLUTION. IT WOULD BE REALLY COOL TO HAVE A LITTLE MORE BIKE INFRASTRUCTURE IN STADIUMS JUST TO ALLOW THE BIKES TO HAVE, YOU KNOW, DESIGNATED PARKING, BUT ALSO LIKE MAYBE EVEN A TAILGATE AREA. I HAVE A CARGO BIKE. AND IT IS QUITE POPULAR WITH A LOT OF CYCLISTS IN THE CITY WHICH IS GROWING MORE AND MORE EVERY YEAR. AND THESE ARE WAYS YOU CAN ACTUALLY PUT THINGS YOU'LL MAKE FOR A HATCHBACK ON A BIKE WITHOUT NEEDING TO HAVE A CAR TO DO IT. AND YOU CAN ALWAYS HAVE A GOOD TI
Every day you will find dozens of people biking along the Rock Island Trail and making their way to the sports complex. Several times a year, Waldo resident Kylie Sutter is one of them. "I always tell people Kansas City is a great place to ride," Sutter said. "But knowing that you're going to show up and cheer for the Chiefs or the Royals is always a good experience. And then also, you know, you don't have to be in traffic jams. That's a really nice advantage." BikeWalkKC wants to make it easier for cycling enthusiasts like Sutter to get to stadiums on a regular basis, and they need your help to make it happen. The non-profit organization launched an online survey earlier this fall that anyone on the subway is encouraged to complete. "We're using the survey only to try to get a clearer picture," said BikeWalkKC policy director Michael Kelley. "Is it a need for better infrastructure? Is it a need for better parking? Is it a need for better security for people's bikes? We want to be able to understand, you know, what we can specifically advocate for in conjunction with the teams, with Jackson County, so that we can all find a solution that makes it easier to get to and from the stadium, easier for everyone, whether they're driving or roll." "It would be really cool to have a bit more cycling infrastructure in stadiums just to allow bikes to have, you know, designated parking, but also, like, maybe even a tailgate area," said suggested Sutter. "I have a bike that's a cargo bike, and those are quite popular with a lot of city riders who are getting bigger every year. And they're ways to put things in that you'd mistake for a tailgate on a bike without necessarily needing a car to do it. And you can still have a good time."
KANSAS CITY, Missouri—
Every day you will find dozens of people biking along the Rock Island Trail and making their way to the sports complex. Several times a year, Waldo resident Kylie Sutter is one of them.
"I always tell people Kansas City is a great place to ride," Sutter said. "But knowing that you're going to show up and cheer for the Chiefs or the Royals is always a good experience. And then also, you know, you don't have to be in traffic jams. That's a really nice advantage."
BikeWalkKC wants to make it easier for cycling enthusiasts like Sutter to get to stadiums on a regular basis, and they need your help to make it happen. The non-profit organization launched an online survey earlier this fall that anyone on the subway is encouraged to complete.
"We're using the survey only to try to get a clearer picture," said BikeWalkKC policy director Michael Kelley. "Is it a need for better infrastructure? Is it a need for better parking? Is it a need for better security for people's bikes? We want to be able to understand, you know, what we can specifically advocate for in conjunction with the teams, with Jackson County, so that we can all find a solution that makes it easier to get to and from the stadium, easier for everyone, whether they're driving or roll."
"It would be really cool to have a bit more cycling infrastructure in stadiums just to allow bikes to have, you know, designated parking, but also, like, maybe even a tailgate area," said suggested Sutter. "I have a bike that's a cargo bike, and those are quite popular with a lot of city riders who are getting bigger every year. And they're ways to put things in that you'd mistake for a tailgate on a bike without necessarily needing a car to do it. And you can still have a good time."