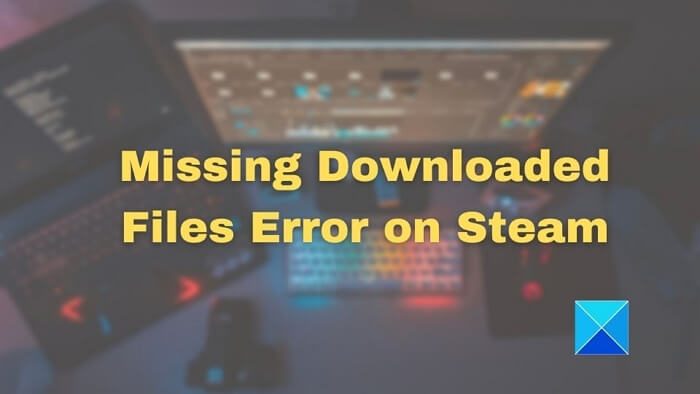 Fixed MISSING DOWNLOADED FILES Error on Steam
You just came across MISSING DOWNLOADED FILES error on Steam? The disappearance of downloaded files on Steam can mainly be attributed to the installation of an application or game on the platform. It could also be due to a particular game or file being updated. There are various reasons that can cause the MISSING DOWNLOADED FILES error to appear on the Steam app. Luckily, there are several fixes that you can adopt to fix the problem. This article will discuss the causes and potential solutions to this Steam error.
Why does a file download error occur on Steam?
There are various reasons that can cause the error LACK OF DOWNLOADED FILES on Steam. These are:
Corrupt downloaded files: In some cases, downloaded files may get corrupted after downloading due to Windows defender.
Missing downloaded files: A sudden power outage may interfere with downloading games or files. When such an event occurs, files may be missing.
Corrupted or damaged game files: Sometimes malware or viruses can attack your system. This can also lead to corruption of game files resulting in the downloaded files error.
Fixed MISSING DOWNLOADED FILES Error on Steam
To successfully restore missing Steam downloaded files on your Windows PC, follow these suggestions:
Restore from Steam Library
Delete content and reinstall
Restore lost game files
Rename ClientRegistry.blob
Add installation libraries
Check if the antivirus is blocking the download
You need to check one by one until the problem is solved on your computer.

1]Restore from Steam Library
Are you experiencing a grayed out Steam library? Maybe Steam is blocking you from accessing games? In this case, you can try restoring the Steam library. Here are the steps:
Open the Steam application.
To select Library at the top of the screen.
On the left panel, look for the game you want. Right click on the desired game.
Click on Properties.
Now go to LOCAL FILES tab and select it.
Click on VERIFY INTEGRITY OF GAME FILES
After that, you will have to wait again for the verification process to complete. Now you can start playing the game on the Steam platform.
2]Delete content and reinstall
To open Steam and click on Library
Right click on the game you want to remove
Click on Manage then choose to Uninstall.
Redownload the game from the library
When done, restart the Steam app
Launch the game and check if you see the error.
3]Clear local download cache
Did you know that Steam uses files that store information associated with Steam games and installations? This is why resetting the file can help restore missing downloaded game files on Steam. Check out these steps:
Open run prompt using Win+R
Type steam://flushconfig/ and press the Enter key
A prompt will appear which will ask you to clear the local download cache
Click on the Ok button then log in to Steam
Now you need to check whether the missing game files have appeared or not.
4]Add install libraries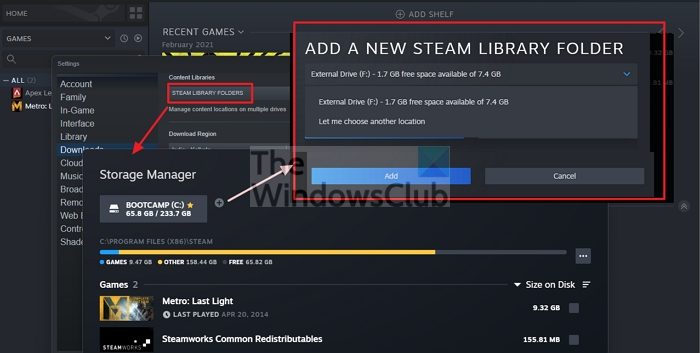 Open the Steam app and click on the Steam menu at the top.
Then click on Settings > Downloads
Click on the Steam Library Folders button to open existing Steam library folders.
Press on ADD A LIBRARY FOLDER. This will lead to select the folder with installed games.
Now you must wait for the change to be made. After that, you can visit the Steam library to see the installed games.
However, if this process does not work, you can opt for this alternative method:
Create a new folder and move all content from the original folder on Steam to this one.
Rename the original Steam folder (now empty).
Now, move the contents of the new folder to the original one.
To restart the system.
Go to Steam.
Click on Settings.
To select Downloads.
Click on Steam Library Folders.
Press on ADD A LIBRARY FOLDER.
Click on the renamed steam folder (new).
Now wait for the process to complete and see if you can see the disappeared games in the folder.
5]Check if the antivirus is blocking the download
In some cases, your antivirus software may block downloading files from Steam. This is simply a case of misdiagnosis and precaution on the part of the antivirus. You should check the list of files that your antivirus software has blocked due to perceived threat.
If you're sure it's a false positive and want to continue, you can re-upload the file. In some cases, you will need to temporarily disable antivirus software.
6]Restore lost game files
You can restore missing files using the Steam Backup Restore feature. If you don't use this feature, another way to recover lost game files is to use recovery software. It may be a matter of luck and depends on many factors, but it can work. You can choose from a wide range of file recovery software to restore missing game files.
Launch the software of your choice on your system.
Click on the storage location or disk where downloaded game files disappeared.
Click on Analysis.
The software will scan the disk and locate any missing and deleted games or files.
Wait for the scanning to complete.
After that select Filtered.
Click on Type and choose the specific file type that you lost.
Check for lost files or games.
Choose the game you want to restore.
press the Retrieve button.
Make sure to restore the file to another location on the system. You can also keep it on another (external) storage device.
Once you find the files, copy them to the corresponding folder and check if the game works as expected. For the future, be sure to keep a backup of all Steam games, so they are easy to restore.
Conclusion
Steam downloaded files error is a common phenomenon that users have reported frequently. In this case, it becomes imperative to assess and identify the underlying causes. After that, you can apply the best solutions to resolve the fix. Keep in mind that you can always opt for professional assistance if none of the solutions solve the problem.
How do I save games on Steam?
You can use the Steam Backup feature to create any game backup files you want. For this, you will have to go to the Steam library. Additionally, you should also make sure that you create the backup files in a folder of your choice. There are easy steps that won't take much time.
Will I lose games if I reinstall Steam?
No, you will not lose any games if you reinstall Steam. However, it would be better to continue making sure the games are backed up. After reinstalling Steam, you need to restore the games.