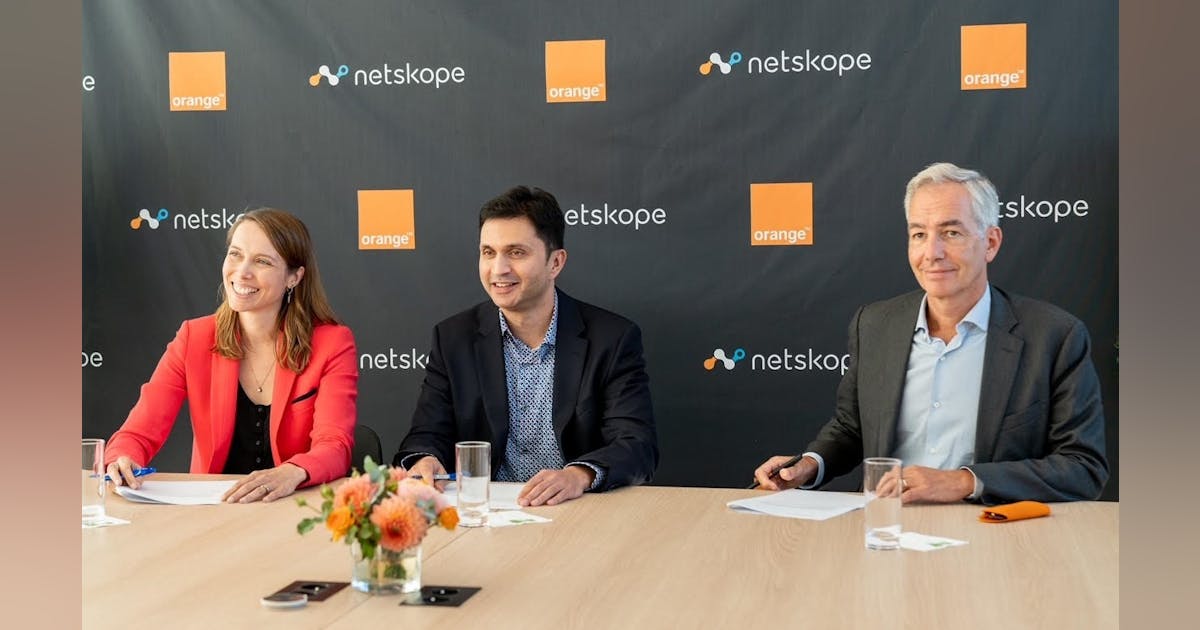 Orange and Netskope partner for carrier-grade connectivity and SSE services
Orange Business Services, a global network-native digital services company, Orange Cyberdefense, a leading provider of cybersecurity services, and Netskope, a leader in Secure Access Services Edge (SASE), are joining forces to deliver a new SSE (Security Service Edge) solution integrated into the Orange Telco cloud platform. The enhanced solution is designed to deliver optimal performance with maximum security, meaning businesses will no longer need to compromise between the two.
A decade of transition to cloud and mobile computing, along with the pervasive demands of hybrid work environments, has put security and networking requirements on a collision course. As SSE addresses security challenges, enterprises must integrate them into overall connectivity strategies to take full advantage of SASE.
The partnership will leverage Orange Cyberdefense's security expertise, private cloud's global security footprint and Netskope's HSE leadership, enabling Orange Business Services to deliver consistent internet security across and out of the network. This will help protect enterprise customers against data loss and the growing volume of sophisticated cloud, web and private app threats, with all the attributes of a cloud-native platform.
The co-managed solution will reduce complexity for businesses, by providing continuously updated cloud security through the Orange Business Services Telco cloud platform. Telco Cloud Platform is a revolution in the way networks are built, run and managed with improved performance. The software-defined approach optimized for telecommunications workloads enables greater agility and reduced costs.
Securing a company's most important assets: people and data
This hybrid architecture integrates Netskope Points of Presence (POPs) within the Orange network, strengthening Orange's customer value proposition by delivering the benefits of the Orange network, including speed and agility, while enabling customers to harness the power of Netskope Intelligent SSE.
Netskope Intelligent SSE provides granular visibility and real-time data and threat protection for cloud services, websites, and private apps accessible from anywhere, on any device.
"Cloud transformation and hybrid working models mean that traditional security architectures are no longer effective or efficient. Connecting our market-leading platform to Orange's network will allow Orange to significantly increase its offering to businesses looking to secure their data without limiting business productivity," said Sanjay Beri, CEO of Netskope.
"More and more enterprises are using the Internet as their sole means of WAN transport, even in an expanding threat landscape. Working together, we provide Orange customers with a SASE-enabled WAN edge while improving enterprise network security without degrading the user experience. says Hugues Foulon, CEO of Orange Cyberdefense.
"This innovative partnership is an important part of our Evolution Platform concept designed to simplify connectivity, cloud and security and support end-to-end business outcomes, delivering real-time protection to our users, their applications and their data, wherever they are. are. It underlines our position as a pioneer in ESS and managed services, offering the right balance between performance, speed and protection to our customers," adds Aliette Mousnier-Lompré, CEO of Orange Business Services.