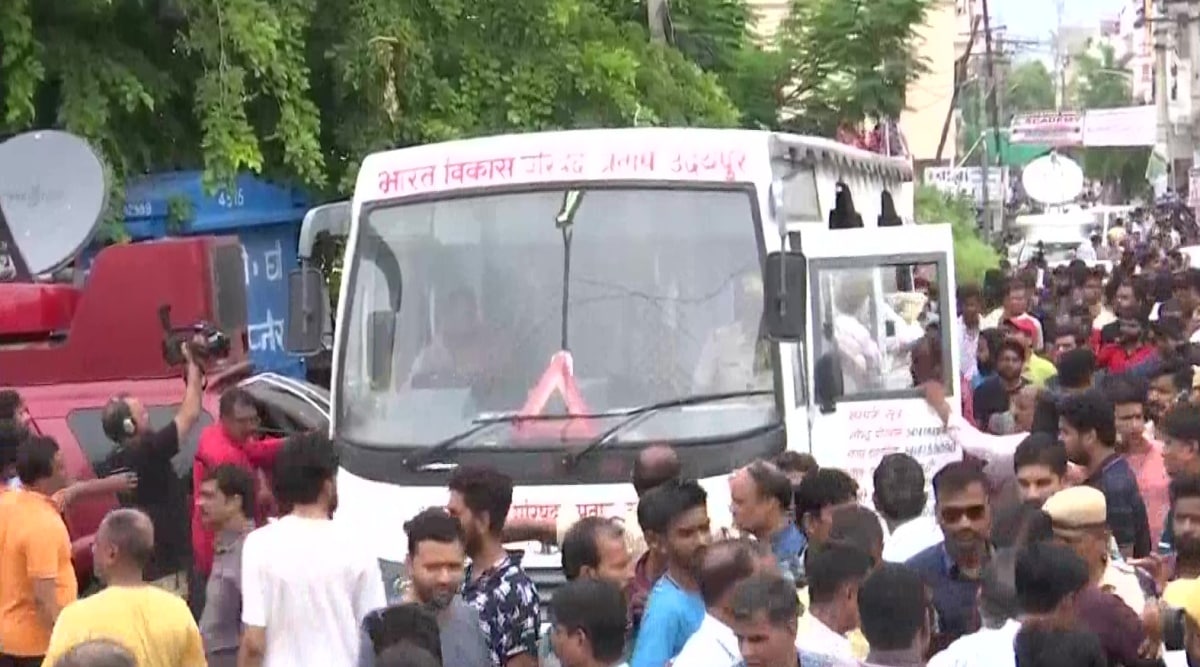 Rajasthan suspends internet services for 24 hours; Article 144 imposed for one month
Police stand guard as people gather on the road as tensions rise after the murder of a man, in Udaipur, Rajasthan. (ANI/REUTERS)
Here are the main developments in Udaipur:
* The attackers were apprehended in Rajsamand district.
* As the city remains tense over the murder of a tailor, internet services have been suspended in Rajasthan for 24 hours and Section 144 has been imposed across the state for a month.
* Curfew was imposed in seven police station areas of Udaipur from 8pm until further notice. Udaipur Collector Tarachand Meena has issued an order to impose a curfew in seven police station areas of Dhan Mandi, Ghanta Ghar, Hathi Pole, Amba Mata, Suraj Pole, Bhupalpura and Bhupalpura police stations. Savina.
* About 600 police were sent to Udaipur to maintain law and order, and internet services were cut in the area.
* The Center is treating the murder of a tailor in Udaipur as a terror attack and dispatched a team from the counter-terrorism investigation agency NIA on Tuesday evening, officials quoted by the PTI news agency as saying. At first glance, it looks like a terrorist attack, an official said on condition of anonymity. The case will likely be forwarded to the NIA for investigation after a case is filed under the strict Anti-Terrorism Act to Prevent Unlawful Activities.
* Rajasthan Chief Minister Ashok Gehlot condemned the "heinous killing", calling it evidence of the horrific form of bigotry. He also ensured strict punishment for those involved in the crime. Gehlot further said that there are communal tensions in the country and the prime minister should address the people.