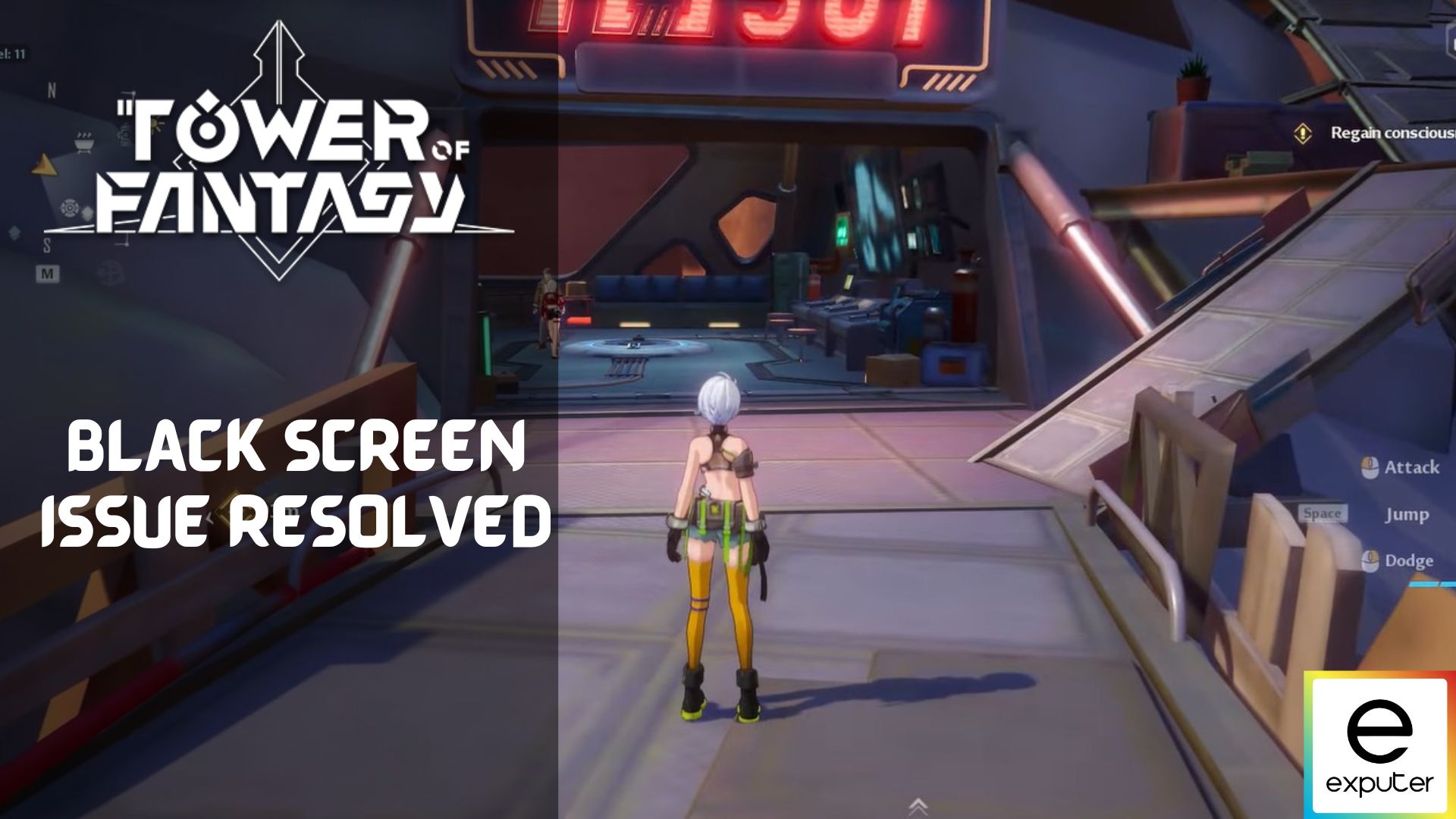 Tower Of Fantasy black screen issue [FIXED]
Facing the Tower of Fantasy black screen issue while enjoying the game might be a bit annoying for you. This issue can occur for a variety of reasons, and you are most likely to encounter it while playing the Bygone Phantasm in Tower of Fantasy. The game is relatively new, so we may have to encounter some issues until they are definitely fixed by the developers. While you're here, check out our Tower Of Fantasy review for a better understanding of the game.
Unlike other minor issues in the game, the Tower of Fantasy black screen issue can potentially be fixed if you try several methods. So, let's get into the reason behind the black screen and how to fix it.
If you're new to the world of Tower of Fantasy, read our Tower of Fantasy Beginners guide to get started. Also, if you want to know in-depth character details, browse through our Tower of Fantasy tier list and then check out the character roles.
Why do you get a black screen when playing Tower Of Fantasy?
While playing Tower of Fantasy Bygone Phantasm, some players are experiencing black screen issues where the game does not proceed further, and a black interface appears, freezing the entire screen. The appearance of this problem can have several reasons, such as.
The device does not meet the minimum system requirements for the game

Corrupt game files

Bad internet or server connection

Outdated or corrupt system files

Antivirus or firewall interference
Related: Fantasy Tower Vs Genshin Impact
In order to solve the black screen problem in Tower of Fantasy, we have prepared this detailed guide in which we will provide all possible solutions to your problem so that you can enjoy the game peacefully.
Fixing Tower Of Fantasy Black Screen Issues
Here are all the possible solutions to fix the black screen problem in Tower of Fantasy. Make sure to try all of them so that you can eliminate the problem completely and play the game successfully. While you're at it, you need to read our Tower of Fantasy main launch events guide.
Meet system requirements
Tower of Fantasy is a heavy game and has specific requirements. If your system does not meet the minimum system requirements to run the game, you will experience issues and lags. So make sure your PC meets the minimum system requirements to run Tower of Fantasy which is listed below.
Minimum requirements
DirectX
Variant 11
Graphic card
NVIDIA GeForce GT 1030
Memory
8 GB RAM
Operating system
Windows 7 SP1 64 bit
Processor
Intel Core i5 or equivalent
Storage available
25 GB or more

For Android

Compatible Versions
Android 7.0 or above
RAM
4 GB or more

For iOS

Device
iPhone 8 Plus or higher
Compatible Versions
iOS 12.0 or higher
Consider reading: Free Tower of Fantasy Codes
Recommended Requirements
If you want to enjoy the best graphics with smooth gameplay, you must meet the recommended requirements for Tower of Fantasy which are listed below. While you're at it, we encourage you to read our Tower of Fantasy Wanderer reaches the crafting limit guide.
| | |
| --- | --- |
| DirectX | Variant 12 |
| Graphic card | NVIDIA GeForce GT 1060 6GB |
| RAM | 16 GB RAM |
| Operating system | Windows 10 64 bit |
| Network | high speed internet connection |
| Processor | Intel Core i7 |
| Storage available | 30 GB or more |
Change compatibility settings
Changing the Tower of Fantasy compatibility settings will allow you to run the game as administrator. To change the settings, you need to add the Tower of Fantasy launcher to your desktop and right-click on the icon.
Once you have done this, the options menu will appear; select the "Properties"settings. After that navigate to the "Compatibility", which is in the upper area, to change the game's compatibility option. Choose the "Run this program as an administrator" option to grant all permissions to the game.
Once you have changed your system's compatibility settings, we recommend that you modify the game settings as follows.
Engine: Compatibility

Interface rendering: automatic

Rendering engine: OpenGL

GPU Settings: Dedicated Graphics
Performance Parameters:
Processor: High

Performance: High

Memory: High

Frame rate: 60
Read also: Tower of Fantasy Launch Events
Alt+Tab Technique
Sometimes the game crashes and gets stuck on the loading screen. Here you can use the Alt+Tab technique to exit the game window, refresh the PC, and get back into the game. If the game crashes without any technical issues, this will likely fix your issue.
You can also restart the game and try one more time; if the problem persists, leave this method and try the others mentioned below.
Check for updates
If the developers release a new game update then it is recommended to update the game instantly as the updates come with new patches and minor bug fixes. So make sure your game is updated to the latest version and contains all required files.
Repair files
Another reason for black screen in Tower of Fantasy can be corrupted or missing files. You can resolve the issue by repairing your game files. If you are playing Tower of Fantasy through Steam, follow these steps to repair your files:
Launch Steam.

Go to the library section, select the game and click Properties in the menu bar.

Choose the Local Files option and click "Verify integrity of game files".

This will repair your in-game files. This may take up to a few minutes, so be patient and grab a cup of coffee while the system repairs the game.
Alternatively, if you're not playing the game through Steam, you can select the launcher and browse Game settings. From there, select the Repair option to start the process.
Check Tower Of Fantasy Servers
If the Tower of Fantasy black screen error is not resolved by implementing the steps mentioned above, then you need to check whether the Tower of Fantasy servers are working properly or not. Sometimes if the servers are not online or there is a connection lag, the game does not continue and shows a blank screen.
You can also check whether the developers have temporarily shut down the servers or not. You can confirm that from online server sites such as DownDetector or see tweets from game officials. If you find out that the whole community is facing a similar problem, the servers are probably down. In this case, just wait for the servers to come back online.
Update your graphics card drivers
Outdated graphics card drivers can also cause a black screen to appear while running Tower of Fantasy. If the game card is not updated, it will not process the game, and it will hang at the loading screen and not process any further.
Here are the simple steps to update your graphics card drivers.
Open "Task Manager" from your PC and navigate to "Device Manager".

Double-click on the "Display Adapters" option and a pop-up message will appear.

Select "Update Driver Software" from the menu and choose "Search automatically for updated driver software".

After that, the system will update with the latest drivers. Once the installation is complete, launch the game to see if the issue is resolved.
Disable your antivirus or firewall
Another common reason for Tower of Fantasy not working properly is an overactive anti-virus software or firewall. To avoid any issues due to firewall protection, be sure to whitelist Tower of Fantasy to prevent programs from interrupting game functions.
You can also temporarily disable your antivirus program by selecting the "Disable real-time protection" option and checking if the problem is resolved. If your game works fine after that, surely you have figured out the problem and the solution.
Close other background tasks
While playing heavy games like Tower of Fantasy, make sure to close unnecessary tasks running in the background. These unimportant tasks put extra load on CPU and affect GPU performance if your system is not high-end.
So, before jumping into Tower of Fantasy, make sure all background activities are closed and the RAM has no unnecessary load. While you're at it, be sure to check out our Tower of Fantasy Reroll guide.
Final Option
If you have tried all the techniques mentioned above and your game is still not working, you are left with two options to fix the problem.
First, you can uninstall the game with all files and folders and reinstall it. If the problem seems to reappear, you can contact the customer support team by visiting the official website and selecting the Contact us option at the bottom of the page. We hope this fixes the problem and you can enjoy the game with peace of mind.
Next: Tower of Fantasy voice actors